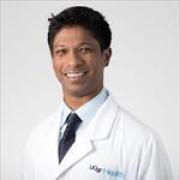 Prasad Shirvalkar, MD, PhD
Assoc Professor in Residence
Assistant Professor Department of Anesthesiology (Pain Management) Department of Neurology UCSF School of Medicine
Dr. Prasad Shirvalkar is the Principal Investigator of UCSF Clinical Trials for refractory chronic pain (NCT03029884 and NCT04144972) and a neurologist and interventional pain medicine specialist at the UCSF Pain Management Center at Mount Zion. He provides the full spectrum of care for chronic pain conditions, including conservative, nonsurgical treatments such as medications and nerve blocks (anesthetic injections near nerves that are sending pain signals). He also treats patients with advanced neuromodulation therapy by implanting peripheral and spinal cord stimulators, which are devices that relieve pain by sending electrical signals to the spine.
Shirvalkar cares for hospitalized patients and provides telemedicine visits for established patients. He coordinates with other providers for each patient, collaborating to treat any pain condition.
Shirvalkar's research aims to develop new therapies for hard-to-treat pain disorders, such as post-stroke pain and phantom limb pain, by harnessing technologies such as brain and spinal cord stimulation. He is conducting a study using electrodes implanted in the brain to understand how individuals interpret pain signals, with the goal of personalizing brain stimulation therapies. He is also interested in how sudden, severe pain episodes can progress to become chronic and in whether early intervention can prevent chronic pain.
Shirvalkar earned his doctoral and medical degrees at Icahn School of Medicine at Mount Sinai. He then completed a residency in neurology at Weill Cornell Medicine and Memorial Sloan Kettering Cancer Center, where he served as chief resident. He completed a fellowship in pain management at UCSF.
Shirvalkar belongs to the American Academy of Neurology, American Pain Association, American Pain Society, American Society of Anesthesiologists, International Neuromodulation Society and North American Neuromodulation Society, where he serves on the scientific program committee.
In addition to medicine and science, Shirvalkar has a passion for percussion. He plays jazz drums in his free time and used to play with the Oakland Raiders' band.